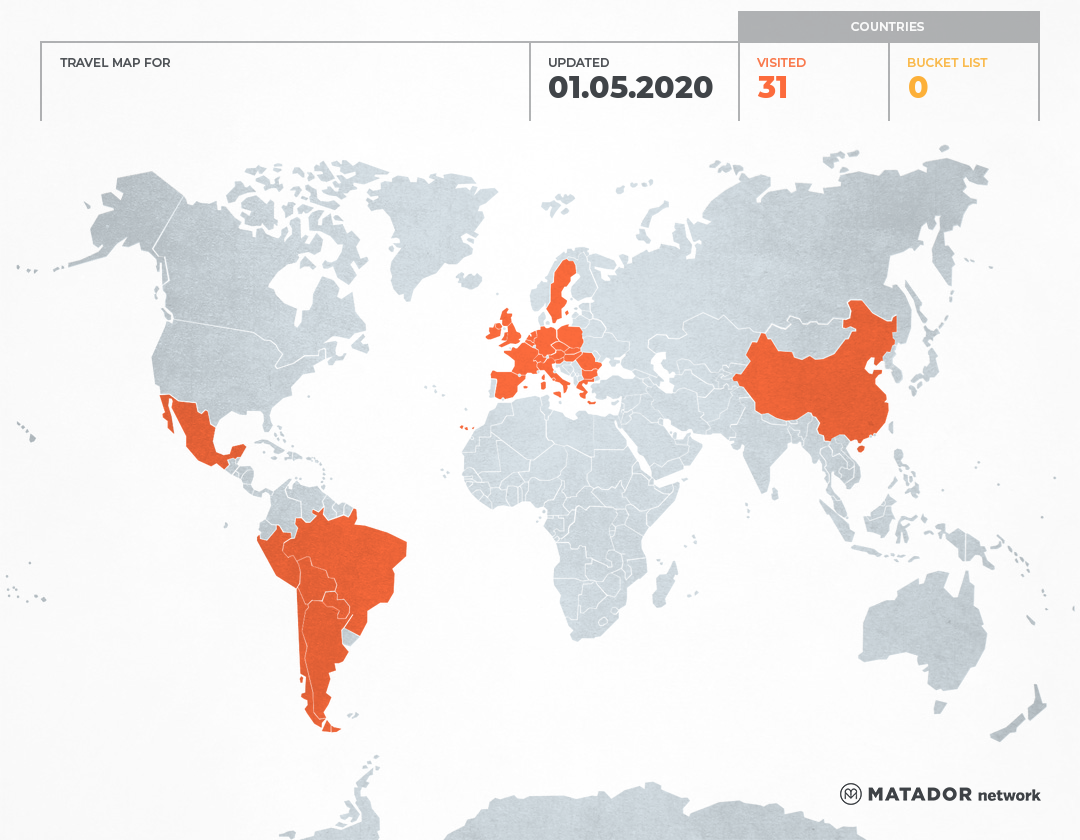 I find these maps both incredibly satisfying and totally misleading. So in alphabetical order, let me explain…
Argentina: I spent a grand total of 6 days in Argentina during my trip to South America in 2016, couchsurfing in Cordoba and drinking lots of wine in Mendoza. Unfortunately due to crazy and unpredictable inflation I opted for more time in Chile instead.
Austria: One of my absolute favourites! I have visited Austria on multiple occasions: the first time on a family Ski trip to Zell-am-see in 2008, and the second to stay with a my first ever international friend Julia in her home in Villach in 2011. We also visited Graz and Vienna together. This summer I had to opportunity to go back and teach English in Aparn an der Zaya, Bad Tatzmannsdorf, and Mödling. I also reunited with my friend Julia in Vienna and watched George Michael: Live in London at the Rathausplatz Film Festival with her in September.
Belgium: For the 2015 Semana Santa (Easter) break my friend Allie and I headed to Belgium. We stayed at a friend's place in Brussels and did a day-trip to Bruges. I really liked Brussels, even though it was bitterly cold…
Bolivia: My penultimate country on my trip to South America 2016! It kicked off with the Salar de Uyuni tour and ended by Lake Titicaca. I also stopped off in Potosí for a few nights, and did an Intensive Spanish course in Sucre.
Brazil: I booked a to Rio de Janeiro back in February 2016 for no reason other than it was the cheapest one going to the continent, and didn't intend on spending much time there. I ended up spending almost a week in Rio before jumping on a flight to Foz to check out the magnificent waterfalls.
Bulgaria: Our first family ski trip was to Bansko in 2006. I find ski trips a funny one because up in the mountains you're hardly exposed to a country's culture… I visited Bulgaria again in 2015 as part of my Interrail trip around Eastern Europe with my friend Holly. We visited the capital Sofia for a couple of days and spend one night in Plovdiv.
Chile: When I planned to go to South America I had totally written off Chile due to its infamous prices. Then I came across an awesome workaway opportunity in the north and I couldn't resist. I ended up spending more time there than anywhere else (6 weeks total) and got to visit Santiago, Valparaíso, Viña del Mar, Taltal, and San Pedro de Atacama. I freaking loved it and will definitely consider applying for a year working visa in the future.
People's Republic of China: This is when that map becomes incredibly misleading… I have only been to Beijing, a teeny tiny fraction of that ginormous blue patch. I went with my 6th form college back in 2011 and haven't been able to shake off the travel bug since.
Czech Republic: The third stop on out Interrail trip in 2015. We spent the majority of our time in Prague sat in the basement of Sir Toby's Hostel, stuffing ourselves with the Breakfast buffet and later enjoying one too many 1€ beers. The best part (for me) was the Prague Alternative Walking tour, which I liked so much I even wrote a Review.
Germany: We stopped in Frankfurt for two nights during my Interrail trip. I found the juxtaposition of old and new architecture aesthetically pleasing, and really enjoyed its art galleries.
France: Classic French transport strikes meant 3 nights turned into just one night in Paris (lol). In Lille I learnt why booking hostels 6 months in advance was a rookie move as I'd got the dates wrong, and we ended up in a budget hotel instead.
Greece: As a Classical Studies graduate and ancient Greek theatre enthusiast I don't think I could ever bore of this magnificent country. I've been fortunate enough to visit Athens, Delphi, Thessaloniki, and Virgina, but really want to explore Crete and the Peloponnese in the future.
Hungary: BUDAAAPEEEEST! As Trips Officer for RHUL Classical Society it was my job to take 23 university students there in 2014. It was beautiful, boozey, and scandalous. I liked it so much I took Holly there the year after, and it is the no. 1 city I recommend to anyone looking for a cheap European getaway.
Ireland: The mother land! My family come from both the North and the Republic of Ireland and it is where I spent all of my childhood holidays. Ack aye it's grand wee place I tell ye now!
Italy: I first visited Italy on a day trip to Trieste with my Austrian friend Julia in 2011. She kindly drove me down for the day and we ate pizza by the harbour. I went back to Italy the following year and visited Verona and Rome. This September I taught English for a week in a tiny village called Moretta, just an hour south of Turin on the way to Saluzzo.
Mexico: So I have technically been to Mexico, but only for 6 hours on my way back from South America. Given the little amount of time I spent there, Mexico City really made a good impression and am hoping to return in 2018.
Netherlands: One of my best friends and University moved to Amsterdam in 2015, so when I had some time off over Easter I had to go visit her. I can't say it was my favourite city in the world (the novelty of getting high in a Cafe didn't excite me), but infamous Red Light District and the Sex museum were fascinating.
Peru: This country is the freaking bee knees. I have been incredibly fortunate to go there twice, and I don't think I could ever bore of it. The first time I spent a 3 weeks volunteering in Cusco, visiting Machu Picchu and a few other Incan cities dotted throughout the Sacred Valley. The second time I celebrated Christmas in Cusco and prepared myself for coming home.
Poland: Warsaw, Krakow, and Auschwitz to be exact. A nice gentleman on a boat in Budapest told me I just HAD to go to Krakow, so a year later I decided to see what all the fuss was about. Poland is a gem and worth fussing over, and you simply HAVE to go see it for yourself.
Paraguay: Another place I had no intention of visiting  when I envisioned myself in South America. Since Brazil had rinsed my wallet and I couldn't make a decision on Argentina, I thought "feck it", walked across the Friendship Bridge and ended up spending a week in Asunción. It is definitely far off the Gringo Trail so you won't see many other tourists around, but its hella cheap and the street art is A class.
Romania: Romanians were getting a lot of bad press in the tabloids after they joined the E.U, but after watching "The Romanians are Coming" documentary on Channel 4 I was very intrigued and decided to go see it for myself. It ended up being our favourite country on our entire Interrail tour of Eastern Europe and if you're looking for a "hidden gem" unscathed by tourism, then get yourself to the freakin' fairytale that is Braşov before those busabout tour groups beat you to it.
Slovakia: I spent a long weekend in Bratislava in June 2017.
Slovenia: English in Action sent me to teach in Ljubljana for one week back in June 2017.
Spain: Visited Barcelona and Pamplona whilst interrailing in 2012, then decided to move to Madrid in 2014 to learn Spanish and teach English. I've written a lot on my Life as an Au pair and adjusting to living in a new country. In my second year I worked as an Auxiliar de Conversacion, lived in a hostel for two months, and struggled to really integrate. I also spent time in Toledo, Segovia, and Granada.
Switzerland: One of the several countries I visited during my first backpacking experience, Interrailing in 2012. We stopped off in Berne and Geneva on our way to Italy. I found them to be over priced and not very backpacker friendly, but heck the lake was spectacular.
Sweden: It was clean, and orderly, and really expensive. I went there for long weekend away back in August 2013. The Noble Museum nearly brought me to tears, and I really enjoyed the cycle lanes.
United Kingdom: Where I was born and raised, so have obviously seen quite a bit of this relatively small island. Haven't been to Manchester or Scotland though, but it is on the list!
– MW.